Collegian Article

This article apeared in Penn States student paper, the Daily Collegian on March 27th, 2000.
It was a 2 page article beginning on the front page and included this full color picture.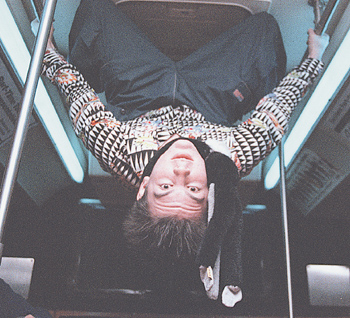 PHOTO: Bethany Boarts/Collegian
Nate Smith Hangs out with his monkey, Qwan, on the Town loop around midnight on Saturday.
Student, stuffed ape entertain Loop riders
By Heather Cook
Collegian Staff Writer
The Friday night Loop pulled up to a stop and throngs of partygoers, some staggering under the influence, piled on the bus. Someone stopped and pointed to a young man in the back, and the bus filled with the chant: "It's the Loop Monkey!"
For Nathaniel Smith (freshman-photography), all Friday and Saturday nights are filled with questions about the black and white monkey hanging from his neck as he rides the Loop between 11 p.m. and 3 a.m. He, in turn, asks riders, many of whom are intoxicated, to do something crazy for his camera.
"I try to entertain people. It's not about getting attention. It's about making people laugh," Smith said. "Why conform to anything? Everything about me is goofy."
Smith, who has been riding the Loop four hours on Fridays and Saturdays since the beginning of this semester, said he started doing it because he spent most of his time just sitting in his room during his first semester at Penn State.
"I'm not a big party fan. I don't really go for the party mentality," said Smith, who does not drink or use drugs.
One girl asked Smith if she could touch his monkey, and he let her, asking people where they are headed for the night and telling them to "rock most on" as they leave. He said he does not have a problem with people being drunk when he talks to them because he enjoys the things they are willing to do when they are intoxicated.
"Most people drink to act like me. I don't know many people who will do this," Smith said as he did a back flip from the bars at the top of the bus, "except when they're drunk."
The stuffed animal Smith carries came from an ex-girlfriend who bought it for him in Hawaii because he likes monkeys. Its name is Qwan, the name on its tag, and means "bright" in Chinese. He also carries a bag filled with toys and root beer to keep him occupied.
Recently, Smith has started a Web site (

www.loopmonkey.usuck.com
) to display the photos of people's antics on the Loop. He spends about two hours every Monday night posting his new photographs from the weekend.
The site also has a link to the Loop Monkey dating service, where anyone who wants to get in contact with someone they see on the site can contact Smith, and he will try to track that person down.
"The Loop Monkey catches people having fun and puts their pictures on the Internet to show everyone what riding the Loop is all about," Loop rider Travis Joerger (freshman-golf management) said.
Smith said he has met some interesting people while riding the Loop, including friends who are really different — something he values in others.
"He's one of the very few people I know who isn't afraid to just be himself. He doesn't try to impress anyone or be someone he's really not," said Kelly Fisher (sophomore-microbiology), a friend of Smith's. "He got me to smile and have fun. Of course, I jumped when he asked who wanted a picture with his monkey."
But riding the Loop every weekend has its downsides.
"Some people get really angry drunk," Smith said. "I'm never really afraid. What's the worse that can happen? I get beat up. I've been beaten up before," Smith shrugged.
Smith also has been kicked off the bus three times, but some of the bus drivers like him because he has helped people get off at the right stops, cleans up after some of them and makes sure those who need to vomit do it in the trash cans.
Yet, the supervisors always make him leave because they feel he disrupts the operation of the bus.
But Saturday night, a girl who asked to see the monkey leapt off the Loop with it and Qwan has been missing ever since.
"You can justify murder in some cases, but there is no way to justify ruining the one thing someone loves in life just because you are drunk and think it would be funny to steal a monkey," Smith said. "This is the only thing I enjoy at PSU and all of a sudden it's gone."
Smith is not sure that he will be on the Loop next weekend without Qwan. He doesn't want a new monkey because it wouldn't be the same, he said, and he's not sure what he'll do now that the monkey is gone.
Feras Al-Alola (freshman-business administration), one of the people Smith said he has met on the Loop, said Smith is a valuable part of Penn State.
"I think the guy really has guts, and we should have more people like him," Al-Alola said. "If you see him on the bus, you should definitely take a minute to say, 'Hi.' "
Smith has posted a message on his Web site, asking anyone with information about Qwan to contact him for a $20 reward. He does not know what he will spend his weekends doing if he does not get Qwan back, but he does not plan on giving up on the search anytime soon.
"It was all about the Web page. It was keeping people entertained for hours and now that's gone, so I have to do something else, I guess," Smith said. "But I don't know when that will be."